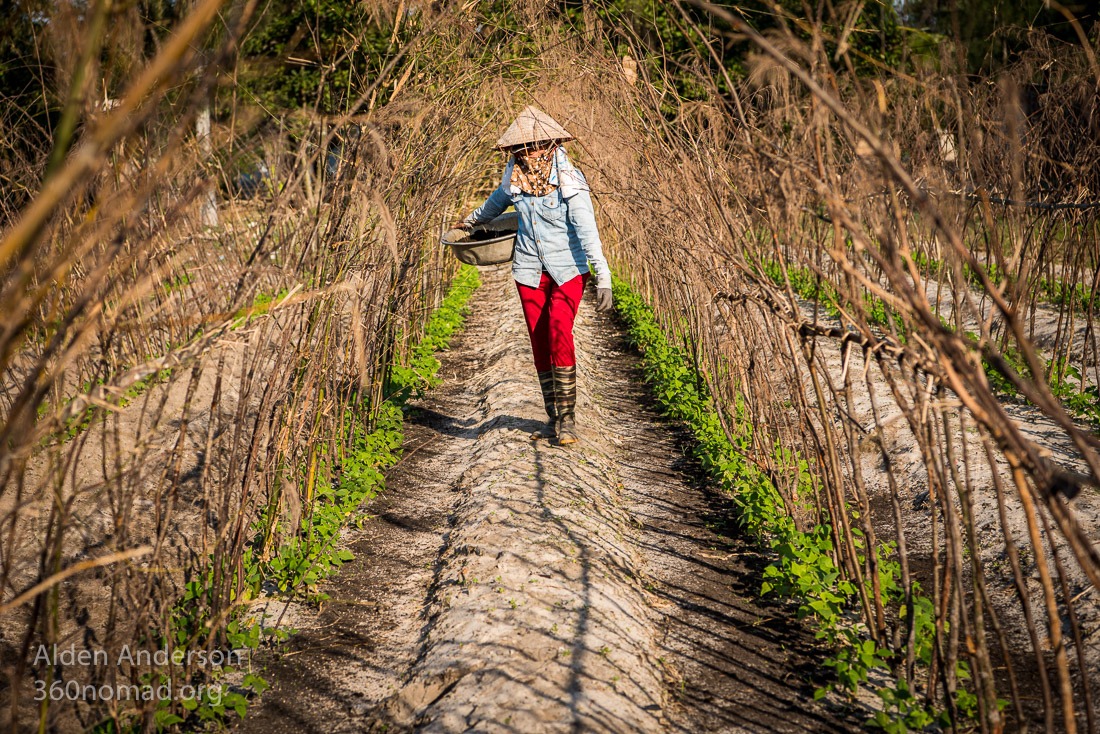 Minh — Farmer, Hoi An, Vietnam
A sun­ny after­noon in the coun­try­side of Viet­nam. Minh takes a break, sit­ting next to her friend beneath the shade of her Nón Lá (con­i­cal hat). "I have been work­ing as a farmer since I was a kid," Minh explains.
"It was flood­ing here, so my plants were over-sat­u­rat­ed with water. If it hadn't been flood­ing, my plants would be taller now. Luck­i­ly, they are still alive."
Minh has a gar­den of string bean seedlings. Branch­es from the near­by mesquite trees are used as tres­tles cre­at­ing an arch above her. The string bean vines will grow up inter­wo­ven in the branch­es giv­ing eas­i­er access to the string beans come har­vest time.
"In addi­tion to grow­ing green beans, I also grow toma­toes, cucum­bers and oth­er veg­eta­bles. I grow the veg­eta­bles now to get ready to sell on Tết (Lunar New Year cel­e­bra­tion). I also raise pigs and cows and grow sweet pota­toes. My hus­band builds houses."
"Then you are rich!" Trinh jokes.
As she gets back to work the tree-branch tres­tles bat against her Nón Lá while she moves up and down the rows sprin­kling fertilizer.
Smil­ing shy­ly Minh says "We just earn enough to live. Our life is not bad."
Get­ting ready to leave Minh beams us a big smile and waves hap­pi­ly. Her name means "Bright" which seems to be echoed in her demeanor.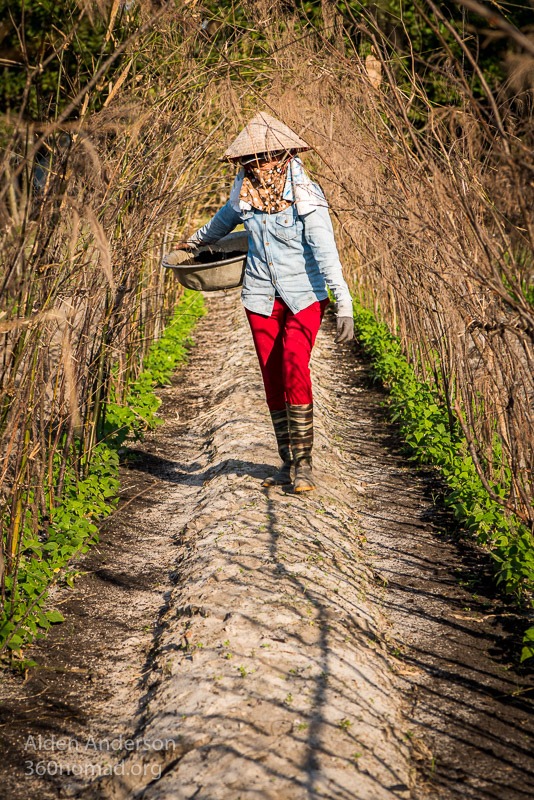 Discover more stories from 'Hoi An, The People'