Sáu — The Woman and the Sea
"I work on the sea and the riv­er. I catch fish with my hus­band near Chàm islands, stay­ing on the sea for about 3 days at a time. I cook on the boat, eat the fish, take a bath in the ocean."
"I have been catch­ing fish for more than 10 years. I only go to the sea when the weath­er is good. We keep the fish at the bot­tom of the boat with ice, or some­times peo­ple come to us and buy the fish (on the ocean)."
Then she saw her hus­band on anoth­er boat com­ing. She was so hap­py and climbed onto his boat to eat with him. She invit­ed us to join them but the sun was sink­ing low over the riv­er, so we told them we would return and join them anoth­er day.
Sáu, 53 years old
Hoi An, Vietnam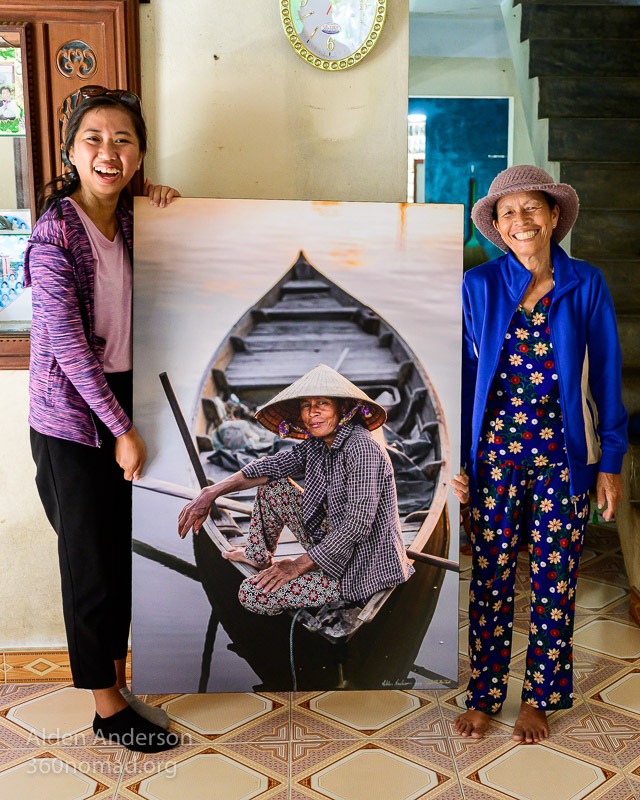 Return­ing to find Sau
We loved the pic­ture and decid­ed to have it print­ed for our liv­ing room. After some time we fig­ured that Sau and her fam­i­ly could enjoy the pho­to more, so we decid­ed to give it to her. The only prob­lem was, we did­n't know where she lived. Trans­port­ing a pho­to of this size (mount­ed on wood) is no easy feat on a motor­bike (It acts like a sail when you're dri­ving, catch­ing all the wind). We would need to find where Sau lived before dri­ving around with the pho­to. Check out the Insta­gram post to read how it hap­pened and see a video of us sur­pris­ing Sai with the photo.
Discover more stories from 'Hoi An, The People'