The Hue Citadel, thick walls lined with watch­tow­ers, sur­round­ed by a moat, topped with can­nons. For­ti­fi­ca­tions that sur­round­ed the ancient Impe­r­i­al City of Viet­nam, back when emper­ors ruled and the Viet­namese still wrote with Chi­nese influ­enced char­ac­ters. The Impe­r­i­al City Huế, a wit­ness to the long and rough mod­ern his­to­ry of Viet­nam begin­ning over 200 years ago. Hue's defin­ing feature.
Huế (pro­nounced "Hway" or "Who A") was once the seat of the Nguyễn Dynasty and the ancient cap­i­tal city of Viet­nam for almost 150 years, from 1802 to 1945 when the cap­i­tal was moved to Hà Nội under the new Rev­o­lu­tion­ary gov­ern­ment head­ed by Ho Chi Minh. It's a city with lots of his­to­ry, the high­est con­cen­tra­tion of his­toric struc­tures in all of Viet­nam; all cen­tered around the heart of the city, Hue's Citadel.
Hue Citadel
To under­stand the Citadel and the Impe­r­i­al City Hue is to under­stand a piece of his­to­ry in Viet­nam, a piece of his­to­ry close­ly linked with mod­ern Viet­nam. For it was here that 13 Emper­ors lived, 13 Emper­ors of the Nguyen Dynasty, Vietnam's last. A dynasty found­ed on an alliance with the French, that would soon affect all aspects of soci­ety, from cof­fee, archi­tec­ture, cul­ture, food, edu­ca­tion, even the writ­ten lan­guage. It all start­ed with Emper­or Gia Long, the Hue Citadel, and Hue's Impe­r­i­al City.
The Citadel is entered by cross­ing one of its stone bridges span­ning the moat sur­round­ing it.
Most old build­ings were destroyed dur­ing The Bat­tle of Hue in 1968, one of the longest and blood­i­est bat­tles dur­ing the Vietnam/American War. Only 10 major struc­tures remained out of 160. How­ev­er, a lot of restora­tion and recon­struc­tion has occurred and is still ongoing.
Some peo­ple like to see every­thing ful­ly rebuilt, per­haps to get a feel for what it might have been like. But some­times old struc­tures are the most beau­ti­ful. One of my favorite places in the Impe­r­i­al City Huế is a small un-restored sec­tion with an old mys­te­ri­ous feel. A small secret tucked away, where, if you close your eyes and open your imag­i­na­tion you might just hear the voic­es of Gia Long, or Minh Mang, whis­per­ing through the over­grown ferns and crum­bling gates.
Purple Forbidden City
The Pur­ple For­bid­den City, col­lo­qui­al­ly known as the Impe­r­i­al City Huế is a walled, moat­ed city inside the Citadel and the seat of the ancient Nguyen Empire for almost 150 years. It is mod­eled after the For­bid­den City in Bei­jing and you will see many Chi­nese influ­ences con­tained with­in its walls start­ing with the main entrance gate. The Merid­i­an gate.
The Merid­i­an Gate dom­i­nates the entrance to the Impe­r­i­al City Huế and is the only gate you can enter through (you can exit through numer­ous oth­er gates).
The Hue Citadel and For­bid­den city were con­struct­ed under the first emper­or of the Nguyen Dynasty. A Dynasty that formed the bor­ders of a coun­try that still holds today. The man who gave birth to a uni­fied Viet­nam. A man who select­ed the site of the Citadel and over­saw its con­struc­tion. A man Named Gia Long, the first emper­or of a new Vietnam.
The Nguyen Clan had exist­ed already for almost 1,000 years as a promi­nent fam­i­ly in the South. With the final capit­u­la­tion of the Tây Sơn dynasty, Nguyễn Ánh had pro­claimed him­self Emper­or and with it adopt­ed the name of Gia Long. Thus the Nguyen Dynasty was established.
Con­struc­tion on the Hue Citadel began in 1804 after the site was select­ed and approved to be aus­pi­cious for the new­ly unit­ed Vietnam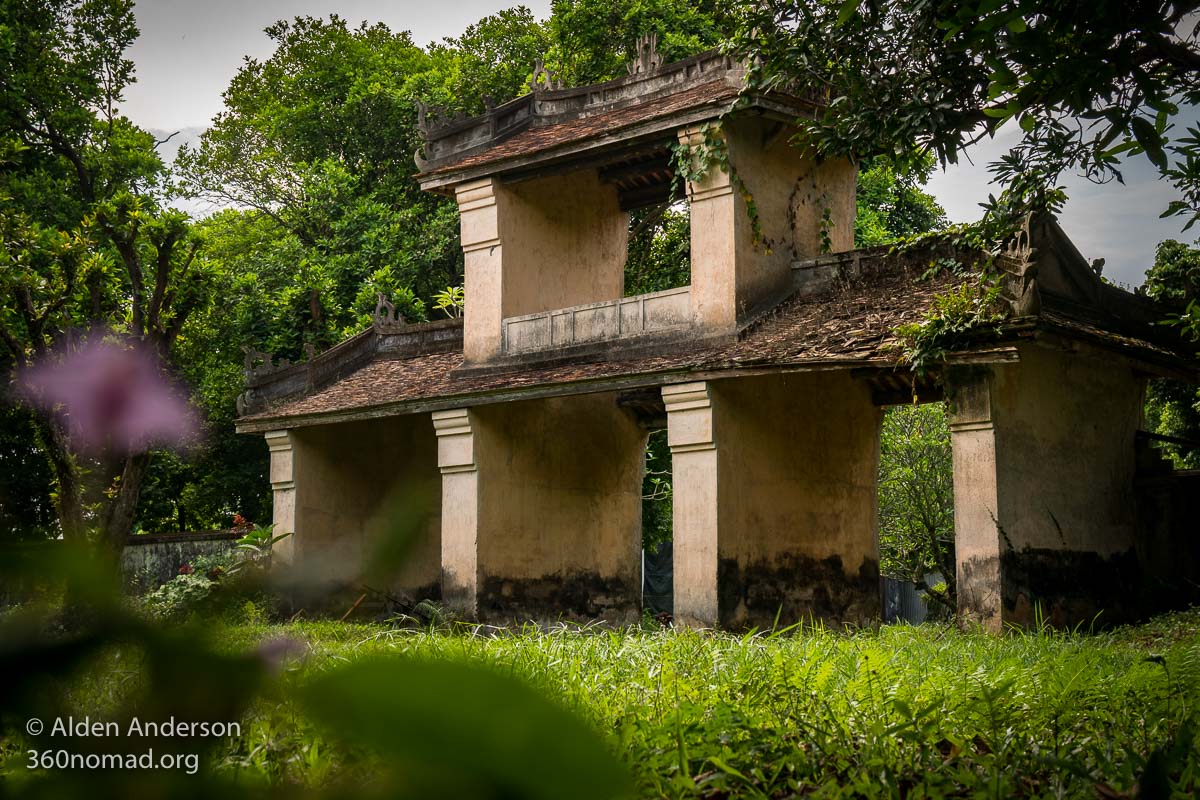 Walk­ing around inside the Impe­r­i­al City read­ing the sig­nage and dates of con­struc­tion it's clear to see that each sub­se­quent emper­or added to the roy­al tem­ples and gates with­in the Impe­r­i­al City.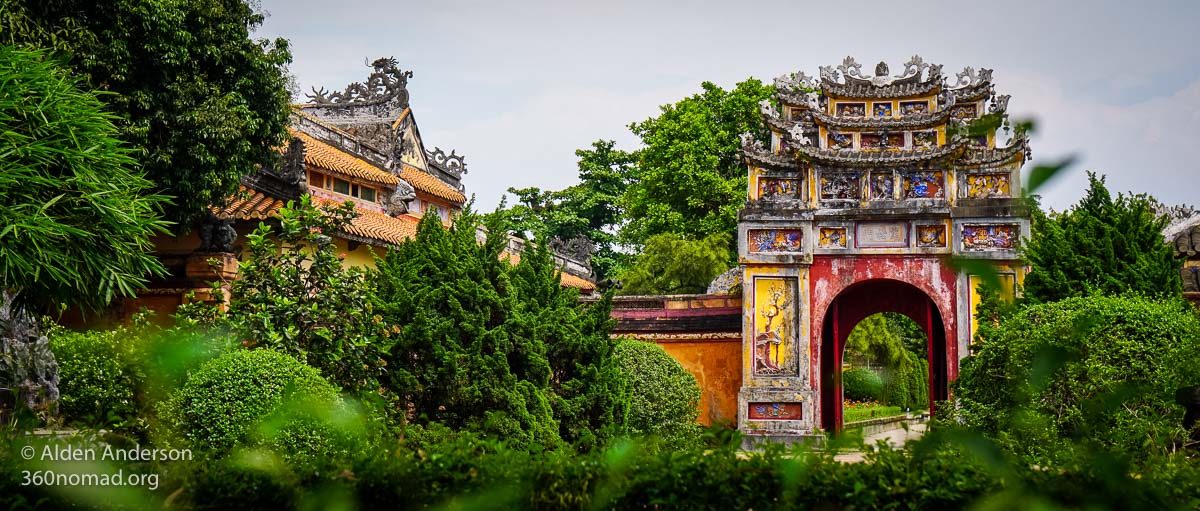 You will notice lots of Chi­nese influ­ence every­where you look in the Impe­r­i­al City. All of the writ­ing at this time was in Chữ Nôm a script based on Chi­nese char­ac­ters. It was­n't until the ear­ly 20th cen­tu­ry that the cur­rent alpha­bet using Latin char­ac­ters (chữ quốc ngữ) was ful­ly adopt­ed under French Colo­nial rule.
Drag­ons adorn every gate and most stairs. The Chi­nese Drag­on is a sym­bol of the mas­cu­line, and one of pow­er and strength.
In addi­tion to lots of Chi­nese influ­ence, you'll also see French influ­ence. Most osten­si­bly in the Colo­nial architecture.
As the 19th cen­tu­ry wore on the French exert­ed more and more con­trol over Viet­nam, until the last emper­or of Viet­nam, Minh Mang was no more than an emper­or in title only, a pup­pet emper­or under a French-Ruled Indochina.
The Hue Citadel with­stood the com­ings and goings of the Nguyen Dynasty and for the most part the French Colo­nial Rule. That all changed in Feb­ru­ary 1968.
Hue Citadel — The Vietnam War
Dur­ing the Tet offen­sive in Feb­ru­ary 1968 the citadel was the last strong­hold of the North Viet­namese Army (NVA) before they with­drew from the city. For 26 days intense build­ing to build­ing com­bat took place between the NVA and US Marines in the longest and blood­i­est bat­tle of the Tet Offen­sive. Ini­tial­ly, the Citadel was spared from bomb­ing and artillery shelling by the US mil­i­tary to pre­serve the his­toric struc­tures. But as the bat­tle and casu­al­ties inten­si­fied all bets of his­tor­i­cal preser­va­tion were off and the Citadel was bombed and shelled until the NVA final­ly with­drew, less than a dozen his­tor­i­cal struc­tures were left.
"We had to blow our way through every house. It's a shame we had to dam­age such a beau­ti­ful city." US Marine (Bat­tle of Hue).
One of the struc­tures mirac­u­lous­ly spared from the intense bomb­ing dur­ing the Tet offen­sive in 1968 was the main entrance to the Impe­r­i­al City, the Merid­i­an Gate.
For more infor­ma­tion on the Viet­nam War and how it affect­ed Hue and the Citadel, watch the excel­lent award-win­ning PBS doc­u­men­tary "The Viet­nam War" by Ken Burns & Lynn Novick. It's incred­i­bly enlight­en­ing and has inter­views with sol­diers on both sides. It real­ly paints a clear pic­ture of all the fac­tors involved includ­ing the path of French occu­pa­tion lead­ing up to the war. The episode fea­tur­ing the citadel and the Tet offen­sive is: Episode 6 "Things Fall Apart" (Jan­u­ary 1968 – July 1968)
Guided Tours of the Imperial City
Inside the Impe­r­i­al City Huế, there are some expla­na­tions in Eng­lish French and Viet­namese near pret­ty much all of the build­ings, but it's brief. If you would like to get a more in-depth view of the his­to­ry you might want to hire a cer­ti­fied guide. Inquire at your hotel ahead of time, or take your chances and find one at the Impe­r­i­al City itself. For a cer­ti­fied guide, you won't have to pay an addi­tion­al entry fee for him/her.
Hue Citadel — Entrance Fee
It's free to vis­it the Hue Citadel itself and walk around inside. There are many cof­fee shops, stores, restau­rants and accom­mo­da­tion options and a few muse­ums. It's a great place to stay if you want a qui­eter expe­ri­ence away from the par­ty­ing and rival­ry of the Pham Ngu Lao walk­ing street across the Per­fume River.
Once inside the Citadel, you can see the walls and moats of the Impe­r­i­al City, a walled moat­ed city with­in the walls of the Citadel. To get inside you'll need to pay the entrance fee.
Imperial City Hue — Entrance Fee
Entrance Fee: 150,000 VND (~$6.50 USD) Chil­dren 7–12: 30,000 VND
Hours: 8:00 AM to 5:30 PM (10:00 PM Thursdays)
Plan to spend between 2 to 5 hours inside the Impe­r­i­al City depend­ing on how inter­est­ed you are in read­ing the signs and tak­ing pic­tures. I was sur­prised at how much there is to see! Get there ear­li­er in the morn­ing to avoid the crowds and heat.
There is a lot of walk­ing involved once inside the Impe­r­i­al City. If it's real­ly hot out there is the option to hire a 7 seater elec­tric cart to dri­ve you around. Either way I do rec­om­mend get­ting an ear­ly start to avoid the mid­day heat, espe­cial­ly in the summer.
Imperial City
&

Royal Tombs Combo Tickets

If you are in Hue for more than a day you might con­sid­er buy­ing the com­bo tick­et if you plan on vis­it­ing the tombs as well. Tu Duc Tomb is my favorite of the Hue Tombs but is only avail­able with the com­bo tick­et if you pur­chase the 4 Site Ticket.

You must vis­it all sites with­in 2 days of pur­chas­ing the ticket!

3 Site Route:
Entrance Fee: 280,000 VND
Chil­dren 7–12: 55,000 VND
1. Impe­r­i­al City
2. Khai Dinh Tomb
3. Minh Mang Tomb

4 Site Route:
Entrance Fee: 360,000 VND
Chil­dren 7–12: 70,000 VND
1. Impe­r­i­al City
2. Khai Dinh Tomb
3. Minh Mang Tomb
4. Tu Duc Tomb

More infor­ma­tion and pic­tures of the Tu Duc Tomb here.
The Citadel at Night
The Citadel is beau­ti­ful light up at night with its cen­ter­piece, the Merid­i­an Gate. You can­not enter the Impe­r­i­al city but you can enjoy the beau­ti­ful­ly illu­mi­nat­ed gates and walls. You might not see many for­eign­ers here but locals of all ages can be seen enjoy­ing the evening in the park-like atmos­phere in front of the Impe­r­i­al City.
A wide open area inside The Citadel where locals exer­cise or just hang out. A long expo­sure effec­tive­ly "erased" most of the peo­ple. The ram­parts are lit up pur­ple for The Pur­ple For­bid­den City"